We are…
… the heart, the head and the joy of the Trüffelschwein. What we do, we do with a lot of understanding and even more passion.
Kirill Kinfelt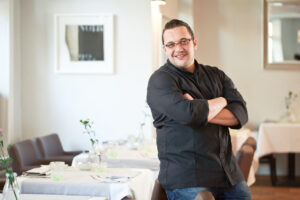 Kirill Kinfelt learnt his handcraft i.a. in two of the best German Michelin-Star restaurants:  at "La Vie" by Thomas Bühner in Osnabrück and in Hamburgs very famous restaurant "Louis C. Jacob" by Thomas Martin. In his own restaurant he now pursues his own style and relies on modern hospitality. His credo is that food should be fun – without constraints. Kirill Kinfelt takes you with you and invites you to become a truffle pig yourself and discover something new. In doing so, he always remains faithful to his high creative and professional requirements and makes the product simply a product.
Jana Kinfelt
She knows everyday life in the catering and hotel industry from many sides, is a trained hotel specialist and has studied business administration. Her passion for exquisite gastronomy has made her a mature wine expert for years. The Wine Menu of the Trüffelschwein bears Jana Kinfelt's manuscrift and places deliberately German Top Wines at a reasonable price. Hence, even the drinking pleasure should not be neglected in Trüffelschwein.